What leased line speeds to pick?
Picking the correct leased line speeds for your business is one of the most important decisions you can make before ordering a leased line.
The amount of options available on the market can be classed as "something for everyone" but be aware, just because you order (as an example) a 10Mb leased line, what happens if your business grows and you have signed a 3 year deal but need more bandwidth?
What is a bearer? What is the right speed for your business? Can you downgrade speed? What about costs? These are some of the questions we will be looking at answering.
Since ADSL first appeared on the market many years ago, the requirement for bandwidth has simply exploded. Something that was classed as a luxury in its day is now an absolute necessity to most businesses. How did we survive before the internet?
Technology has moved on somewhat since then. We now have a rich abundance of different products offering something for every budget. At the top of the tree is leased lines. Unlike the days of ADSL where speeds where classed as "best effort", leased lines are totally uncontended and therefor you share you connection speed with nobody.
Speeds are also synchronous so in other words, if you was to purchase a 10Mb leased line this means that you will get 10Mb download speed and 10Mb upload speed. With ADSL, your connection is contended meaning you share that connection with others hence the reason why the speed goes up and down.
With leased line speeds now ranging from 10Mb to 10Gb the requirement is set to continue growing long into the future. Speed still remains the number one requirement in businesses across the UK whom now heavily rely on everything a leased line can provide to fulfil their customer needs. To many, being without it would spell disaster.
So What Leased Line Speeds Are Available? What Is A Bearer?
A leased line is available to order in any speed you require starting at 10Mb and going right the way up to 10Gb which is enough bandwidth to run an army! What you have to watch out for as a business is to make sure when you order you ask what bearer your leased line is on.
If you order a 100Mb leased line which is running on a 100Mb bearer and sign a 3 year term then you cannot upgrade that line. If you order a 50Mb leased line on a 100Mb bearer then at any stage through your contract you can upgrade from the 50Mb to 60Mb, 70Mb etc (for a slight increase in your monthly costs) right the way up to the full 100Mb.
Basically a bearer is like a "silent" bandwidth sat in the background waiting to be used by you if required. The huge benefit of having a bearer is that you are future-proofing your business for the next 3 years. You have total peace of mind knowing that if you need more bandwidth, you can simply upgrade.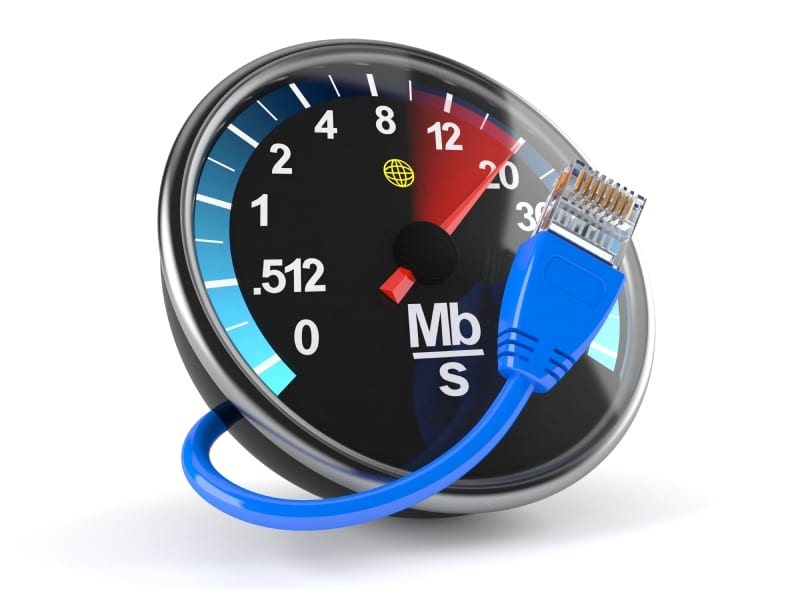 Would You Like A Quick Quote?
What Are The Most Popular Speeds And Why?
When it comes to the most common leased line speeds, the 10Mb on a 100Mb bearer is the popular one. However, as times are changing and the demand for more bandwidth is increasing, the 100Mb is becoming just as popular. So lets take a look in more detail.
Just so you are aware, we offer a price promise guarantee on all our leased line products. If you find a cheaper quote elsewhere, not only do we price match but we will beat it!
10Mb Leased Line On A 100Mb Bearer
Why is it so popular?
10Mb is the entry point in the leased line speeds world and as standard, we offer all our customers this speed with the 100Mb bearer. The simple reason for this is firstly, it's the same price so why would you not!
Secondly, this future proofs your business throughout the full term of the contract whether that be 1, 3 or 5 years as you can upgrade at any stage. This speed also offers sufficient bandwidth to carry internet traffic, WAN traffic, and VoIP phone calls. An old 2Mb connection would struggle with all these.
A lot of companies are forced into upgrading to a leased line due to the fact that they will see a rise in usage. VPN traffic, VoIP and websites are becoming more and more bandwidth hungry leaving a business with only one option – Upgrade.
Certainly another benefit is if your business is using ISDN30 circuits for telephony, you can switch to a leased line and run SIP trunking/VoIP. Money spent on rental charges for the ISDN circuits can then be saved because VoIP calls with SIP trunks are much cheaper than ISDN30 so you will have the added value of your calls package dramatically dropping in price.
Not only that, as the prices for leased lines continue to fall, this is now opening the door for more businesses to get rid of their unstable dsl connections and get the benefits of the best technology on the UK market without breaking the bank.
This product is the same price as 10Mb so a real no brainer!

Ability to upgrade speeds throughout your contract to more bandwidth

One, three and five year terms available

Can carry internet traffic, WAN traffic and VoIP calls.
50Mb Leased Line On A 100Mb Bearer
This product is not much more per month than 10Mb! Prices dropping all the time.

You get five times more bandwidth than the above option but do not pay five times more.

You get five times more bandwidth than the above option but do not pay five times more.

Can get rid of old costly ISDN circuits.
A 50Mb leased line is very similar to the above, the main reason in its growing popularity firstly start with costs. At the start of 2019, we have noticed prices on this circuit dropping more than any other. You are also getting five times more bandwidth than the above but not paying anywhere near five times more which makes it a very attractive proposition.
On top of that, vast improvements over the years in the electronics industry have seen prices for switches and routers tumble. Again, SIP trunking and VoIP play their role here. Getting rid of ISDN circuits and saving money on your calls but being able to handle larger enterprise telephony requirements.
Head offices now need higher leased line speeds due to the increased WAN usage from regional offices. Usually when companies roll out corporate WAN's the Head Office get's the "lion's share" and the regional offices get lower speeds. As the prices of leased lines drop, companies and firms have been upgrading other offices, providing them with faster connections and getting rid off "bottlenecks"
Previously, a 64kb connection was enough for a company. Then, a 2Mb connection came along,  Now, a 10Mb on a 100Mb bearer connection is a default choice. Soon, 50Mb to 100Mb leased lines will become more common.
The demand for more internet bandwidth is increasing. Why? It's because websites and the services within the workplace become hungry for more bandwidth. Standard broadband simply does not "cut the mustard" in most modern workplaces now. It is simply too slow, too limited and too unreliable. Without enough bandwidth, business related internet access will actually slow down.
What is the benefit of a 100Mb leased line? This is one of the most sought after leased line packages right now. In fact, more and more companies are opting to have one. And these are the reasons why.
A 100Mb leased line may sound scary to some businesses as they think it's going to be such an extortionate price. Location plays a huge part in the pricing especially on this circuit speed. If you live in the middle of a field then pricing is going to be astronomical but if your business is in a built up area, major town or city in the UK then you may well be very surprised how cost effective this line is.
For years, 2Mb leased line connections were the standard choice of most companies. But recently, more companies are switching to 10Mb or even 100Mb leased lines because these connections are basically not that expensive. And they can also offer better performance and much greater benefits.
Why Opt For A 100Mb Leased line? Well, more and more companies are opting for 100Mb leased lines. You may wonder why they would need all this bandwidth? Surely, you would think that a 10Mb leased line would be sufficient enough. But this is not the case for everyone. There are many reasons why a lot of businesses are choosing to have 100Mb leased lines.
Companies use the bandwidth for different purposes, Internet access is one of the most important factors that a company should have in order to operate smoothly and run effectively. More staff equals more usage equals more bandwidth needed. For example, Windows updates, virus definition updates, video conferencing, VPN's, VoIP all use bandwidth and if you have a large workforce you need a large internet connection to cope with demand.
The most sought after connection of 2018 as bandwidth requirements increased.

Built up areas benefit from incredible pricing.

Better performance and much greater results.

More staff equals more usage equals the requirement for more bandwidth.
100Mb Leased Line On A 1Gb Bearer
The "go to" choice of 2019 for bandwidth

Ability to upgrade all the way to 1Gb due to the bearer.

Future proof any business with vast amounts of bandwidth for any SME

Costs have dropped dramatically
So what can 100Mb on a 1Gb bearer leased line speeds offer your business? Well, to start off with, a 100Mb on a 1Gb bearer leased line will be the number one choice across the board for businesses in 2019.
Bandwidth requirements are growing all the time. With this offering, if you sign a 3 year term contract and decide that the 100Mb leased line speed is not enough, you can simply upgrade your speed for a slight increase in your monthly costs.
The actual costs for a 100Mb on a 1Gb bearer leased line have dropped so why would anybody now choose the 100Mb unless they know that they will have more than enough bandwidth with that. If you don't have a bearer, you cannot upgrade your speed easily.
Therefor this speed will not only will give you enough bandwidth to cover any requirements however intense they may be but also you will have total peace of mind knowing you can upgrade as and when to higher bandwidth. You can upgrade at any stage throughout the term of your contract in increments of 100Mb so 200Mb, 300Mb etc right the way up to the full 1Gb speed.
VoIP will also run smoothly and effectively over any leased line with this speed and will be good for around 100+ users.
We have call centres which use this speed which have fantastic connectivity.
These are ideal for companies using/needing lots of data. A 1Gb leased line is 10 times more powerful than a 100Mb leased line yet they do not cost 10 times as much. Usually the large corporate companies buy these as they have a high amount of staff, high internet usage, calls, uploading and downloading lots of data so the requirement is there.
Companies such as banks, businesses with global offices, hosting companies, graphic design companies to name a few are usually the main "takers" of this technology but hosting is the most popular.
Hosting actually demands lots of bandwidth, and this should be taken into account especially if you are allowing lots of people to stream or download large video or audio files, the need for more bandwidth will be increased aswell. Hence the requirement for a 1Gb leased line. This will help ensure that your connection does not turn into a bottleneck that will slow down instant access to sites.
In addition to that, 1Gb leased lines are often the ideal choice for companies that are maxing out their existing 100Mb connection. Some companies prefer to have two circuits purely because this can offer them "true resilience" plus better performance.
Another reason why companies are opting to go for a 1Gb leased line is that it enables them to have quicker and easier bandwidth upgrades. If you have a 100Mb leased line and its capacity runs out, you will need to wait three months for the installation of another line. Many companies cannot handle three months of internet congestion while waiting for the installation. So, in order to avoid this issue, some companies order a 100Mb on a 1Gb bearer leased line. This way, if ever they maxed out their bandwidth, they can easily upgrade their connection in days instead of months!
Ten times more powerful than a 100Mb leased line but does not cost ten times as much.

The choice for large corporates with large amounts of staff, high internet usage etc.

Ideal choice if you are maxing out your existing 100Mb connection.

Can upload/download much quicker plus more bandwidth to go round basically future proofing your business.
What Makes Us Stand Out From The Crowd?
We are a very unique company in our own right offering what the other companies simply cannot. As you can see on the image, these are just a few of the reasons we are different.
Great Pricing? It's just the beginning!
Price Promise
The only company of our type in the UK to offer this. Please grab a free quote from the top of this page!
Bespoke Solutions
We offer completely free, impartial advice and work with all the UK providers which puts us in a position to tailor a solution to whatever your needs may be however complex it may be.
Support
Our support really is non stop. From the first point of contact right the way through your whole journey, we will be with you every step of the way.
Increased Bandwidth
As long as you have the correct bearer in place, you can upgrade your speeds mid-term if you wish to a higher amount future proofing the business.
Us!
We pride ourselves on being different and breaking the mould. We are nothing without our customers who mean everything to us.
Looking For Other Product Information?
Our Price Promise Guarantee!
Not only do we work with every single top tier provider in the UK BUT we also offer a price promise guarantee. If you find a cheaper quote elsewhere, simply let us know.
If it's a "like for like" proposal, not only do we price match but we will beat it for you! Simply ask for more details or click here.
You now get all the benefits of being on the best networks in the UK at a fraction of the costs compared to going direct!
Great pricing? It's just the beginning!
Some Of Our Proud Customers