In today's digital-driven landscape, reliable internet connectivity is the lifeblood of small businesses. Leased lines have emerged as the go-to solution for stable, high-speed internet.
This blog focuses on budget-friendly leased line options tailored for small businesses in the UK. We'll explore how these solutions can revolutionize connectivity without breaking the bank.
Understanding Leased Lines
A leased line is not just a connection; it's a lifeline for businesses seeking a reliable and high-performance internet solution. 
Unlike conventional broadband, where the speed can be erratic due to shared connections, a leased line provides dedicated bandwidth solely for your business. This means consistent and symmetrical upload and download speeds, essential for tasks like video conferencing, large file transfers, and seamless online transactions.
Leased lines operate on a direct, private network connection, which bypasses the public internet. This exclusivity translates to: 
improved security;

reduced latency; and 

minimal disruptions. 
Moreover, leased lines come with Service Level Agreements (SLAs), guaranteeing a certain level of uptime and performance, which is a game-changer for businesses that rely heavily on uninterrupted online operations.
In the past, leased lines were often considered a luxury due to their perceived high costs. However, the landscape has evolved, and budget-friendly options are now available, making this enterprise-grade solution accessible to small businesses with ambitious goals. 
In the following sections, we'll dissect the factors that influence leased line costs and unveil strategies to leverage these solutions without straining your budget.
Factors Influencing Leased Line Costs
The cost of a leased line solution can vary widely based on several key factors. Understanding these factors can help you make informed decisions and tailor a solution that aligns with your budget and business needs.
   

1. Bandwidth Requirements and Scalability
The amount of bandwidth your business requires plays a significant role in determining the cost of a leased line. The higher the bandwidth, the more data your connection can handle simultaneously. Assess your current and future bandwidth needs to strike a balance between optimal performance and cost-effectiveness. Many providers offer scalable options, allowing you to start with a lower bandwidth and upgrade as your business grows.
   

2. Location and Distance
The geographical location of your business in relation to the nearest exchange points influences the cost of installing and maintaining a leased line. Businesses located farther away might incur additional charges for extending the connection. Understanding the proximity to exchange points can help you anticipate potential costs.
   

3. Provider Choice and SLAs
Different providers offer varying packages and service level agreements (SLAs). Providers with a solid reputation for uptime and customer service might come with a slightly higher price tag, but the reliability and support can be well worth the investment. Compare providers' SLAs, customer reviews, and track records to make an informed choice.
   

4. Installation and Setup Fees
Leased lines require professional installation, which can incur setup fees. These fees might include the cost of installing the physical line, configuring the network, and ensuring everything is optimized for your business's needs. Inquire about installation costs upfront to avoid surprises.
By carefully considering these factors and tailoring your leased line solution to your specific requirements, you can strike a balance between performance and cost-effectiveness. In the next section, we'll delve into strategies for finding budget-friendly leased line solutions that meet your business needs without compromising on quality.
Budget-Friendly Leased Line Solutions
Finding a cost-effective leased line solution in the UK doesn't mean sacrificing quality. Here are strategies to help you navigate the landscape and secure a reliable connection without straining your budget:
Start by researching and comparing different leased line providers. Look for local and national options, as local providers might offer competitive pricing tailored to smaller businesses. Take advantage of online comparison tools and read reviews to gauge customer satisfaction and service quality.
Special Offers and Discounts
Keep an eye out for special offers or discounts that providers might be offering. Some providers might have promotions targeting small businesses or specific industries, which can significantly reduce initial setup costs.
Opt for Asymmetrical Bandwidth
Consider opting for asymmetrical bandwidth if your business's upload requirements are significantly lower than download needs. Asymmetrical plans offer higher download speeds and lower costs compared to symmetrical plans with equal upload and download speeds.
Shared Leased Lines and Co-Location
Shared leased lines involve multiple businesses sharing the same line, which can lead to cost savings. Co-location, where your server equipment is hosted in a data center, can also be a budget-friendly option, as you share infrastructure costs with other businesses.
Bundled Services and Managed Solutions
Some providers offer bundled services that combine leased lines with other services like phone systems, cloud storage, or cybersecurity. Bundled packages can provide additional value and potential cost savings compared to purchasing individual services separately.
Note: Navigating the leased line market requires a careful balance between your business's needs and available budget. In the upcoming sections, we'll explore how government initiatives and funding options can further support your quest for a budget-friendly leased line solution.
Government Funding for Gigabit Broadband Access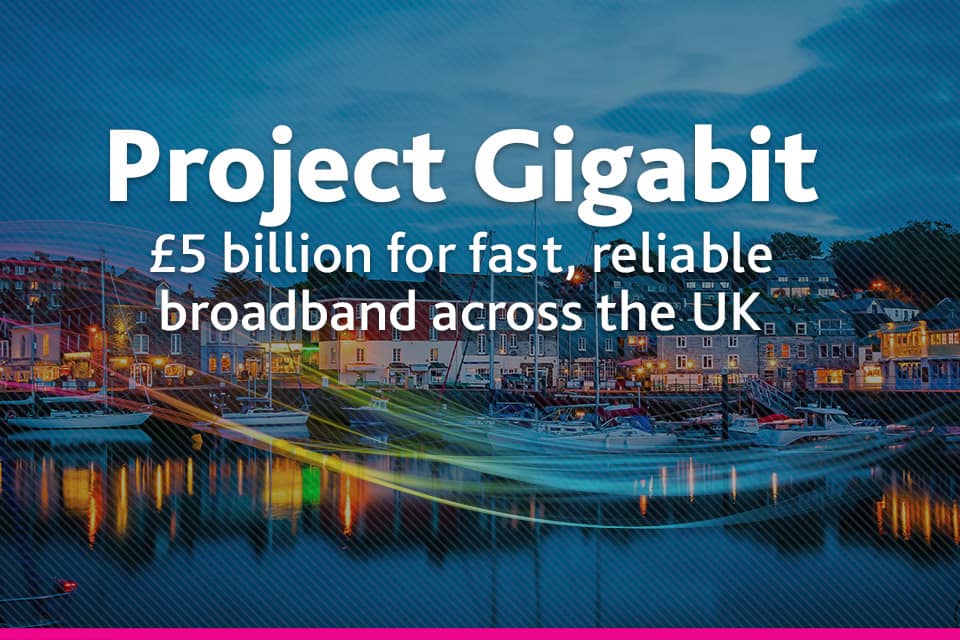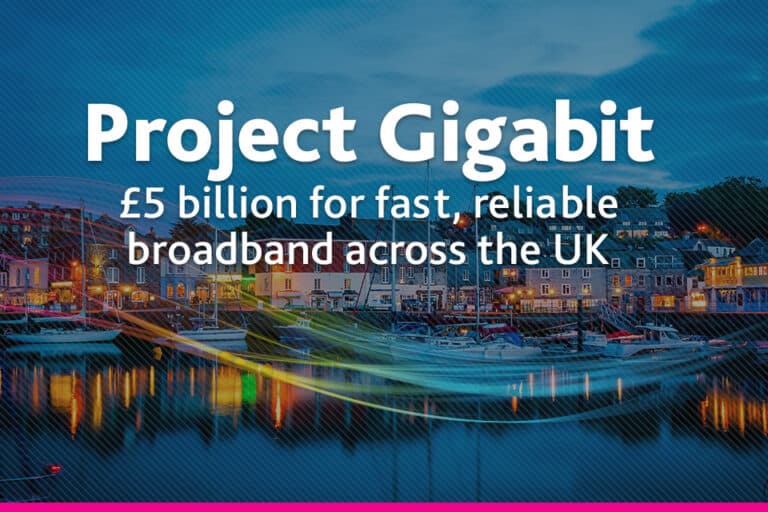 The UK Government has committed a substantial £5 billion fund to facilitate the expansion of gigabit broadband to the most remote locations across the country—areas where private investment isn't expected to reach (constituting 20% of the UK). This initiative aims to cover approximately 5 million premises, predominantly situated in rural regions.
Known as 'Project Gigabit,' this funding endeavor is administered by Building Digital UK (BDUK), an executive agency operating within the Department for Science, Innovation, and Technology (DSIT).
The core components of Project Gigabit include:
Strategic Area Roll-outs:

The initiative involves a series of targeted procurements that financially support the deployment of gigabit-capable broadband in specific geographical zones. Broadband providers compete for contracts to establish infrastructure in each designated area.

Voucher Scheme: For inhabitants and businesses located in qualifying rural zones, there exists a voucher scheme to alleviate the costs associated with obtaining a new gigabit-capable broadband connection. The Government's voucher scheme website offers a postcode-check feature that enables individuals to determine their eligibility for this assistance.
Public Sector Connectivity:

Funding is also designated to facilitate the connection of public sector establishments, including educational institutions like schools, often referred to as 'GigaHubs.'
BDUK's ambitious goal for Project Gigabit is to extend coverage to a minimum of 1.56 million premises by the year 2025, equivalent to approximately 5% of all premises across the United Kingdom.
By tapping into these UK government initiatives and funding opportunities, small businesses can significantly alleviate the financial burden associated with adopting advanced connectivity solutions like leased lines. In the subsequent section, we'll delve into practical strategies to maximize the cost-effectiveness of your leased line investment.
Tips for Cost-Effective Leased Line Adoption in the UK
Navigating the world of leased lines while keeping costs in check requires a strategic approach. Here are some tailored tips for UK businesses looking to optimize their leased line investment:
1. Research Local Providers
Explore local leased line providers in the UK. They often offer competitive pricing tailored to the needs of small businesses within their vicinity. Research their reputation, customer reviews, and service offerings to find the best fit for your business.
2. Leverage Government Support
Take advantage of the UK government initiatives to boost digital connectivity mentioned earlier. Investigate eligibility criteria and application processes for schemes like the Gigabit Voucher Scheme and Rural Gigabit Connectivity Program. These initiatives can significantly reduce installation costs.
3. Negotiate with Providers
Don't hesitate to negotiate with leased line providers. Engage in discussions to understand if there are any ongoing promotions, discounts, or customized packages that align with your budget.
4. Scalable Bandwidth
Opt for scalable bandwidth options that allow you to start with a lower capacity and upgrade as your business grows. This approach avoids overcommitting to high costs upfront and provides flexibility for expansion.
5. Shared Leased Lines
Consider shared leased lines, where multiple businesses share the same connection. This can be a cost-effective solution while still offering enhanced performance compared to standard broadband.
6. Contract Lengths
Evaluate the benefits of long-term contracts versus shorter ones. Long-term contracts might offer cost savings, but make sure you're comfortable with the commitment before signing.
7. Off-Peak Usage Strategies
Explore strategies that involve utilizing your leased line during off-peak hours. Some providers offer flexible pricing based on usage patterns, allowing you to optimize costs without compromising on performance during critical business hours.
8. Regularly Review Your Package
Periodically review your leased line package to ensure it still meets your business's needs. As your operations evolve, your connectivity requirements might change, and adjusting your plan accordingly can prevent overpaying for unused resources.
By incorporating these budget-friendly tips into your leased line adoption strategy, you can strike a balance between a reliable online presence and prudent financial management. 
Conclusion
Budget-friendly leased line solutions have become a vital asset for small businesses in the UK, ensuring reliable and high-speed internet access. Understanding factors like bandwidth, location, and provider options helps businesses strike a balance between performance and cost. Government initiatives like Project Gigabit provide invaluable financial support, especially for rural areas, bridging digital gaps and fostering growth.
Through research, negotiation, and scalability, small businesses can leverage leased lines to stay competitive without straining finances. Investing in cost-effective connectivity isn't just about technology—it's an investment in the future success of your business. Embrace these solutions, connect seamlessly, and propel your business into the digital age with confidence.